Rhino horns seized by authorities in Vietnam (Photo by Tom Milliken / TRAFFIC)
Vietnam, where rhino horn demand, stoked by claims that the horn cures cancer and hangovers, is strongest, must implement a strategy to reduce demand in the country and ensure rhino horn traffickers are prosecuted and punished. Rhino horns are composed of keratin, the same material that hair and nails are made of, and no curative properties have ever been proved for the ingestion of this substance.
The CITES member governments directed Vietnam to make progress with the development and implementation of the South Africa – Vietnam 2012 to 2017 Joint Action Plan by strengthening management of imported rhino horn trophies, and to improve investigations and prosecutions of Vietnamese nationals suspected of illegally trading in rhino horn.
Mozambique, a major transit country for rhino horn, must strengthen legislation and enforcement to reduce horns leaving the African continent. Currently, it is just a misdemeanor to smuggle rhino horns through Mozambique.
Mozambique shares a border with South Africa's Kruger National Park, where most of the world's rhinos live. The park is also the epicenter of illegal rhino killing. This year, 146 rhinos have been poached in South Africa.
Governments decided that Mozambique and South Africa must cooperate better with each other and with neighboring states to combat illegal killing of rhinoceroses and trade in rhinoceros horn.
Vietnam, Mozambique and South Africa all are required to provide a comprehensive report on progress made to the CITES Secretariat by January 31, 2014, including an update on arrests, seizures, prosecutions, and penalties for offenses related to illegal rhinoceros horn trade.
A report by the International Union for Conservation of Nature and the wildlife trade monitoring network TRAFFIC released in January shows the widespread slaughter of rhinos for their horns.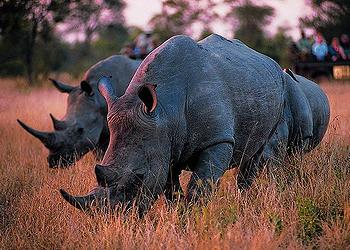 Rhinos on the Mala Mala Private Game Reserve within South Africa's Kruger National Park (Photo by Safari Partners)
By the beginning of 2011 there were 20,165 White Rhinoceros, Ceratotherium simum, and 4,880 Black Rhinoceros, Diceros bicornis, in Africa. But at least 1,997 rhinos were poached between 2006 and September 2012 and over 4,000 rhino horns have been illegally exported from Africa since 2009, with an estimated 92 percent of these coming from rhinos specifically killed to obtain their horn.
South Africa, where 83 percent of Africa's rhinos and 73 percent of all wild rhinos worldwide live, is the principal source of rhino horns in illegal trade. A record 668 rhinos were poached there in 2012, according to official government figures released in January 2013.
TRAFFIC's report released in August 2012 identified Vietnam as the prime destination for much of the illegal rhino horn.
If funding is available, the CITES member governments asked the Secretariat to convene a Rhinoceros Enforcement Task Force to develop strategies that improve international cooperation. The task force would be made up of countries affected by rhinoceros poaching and illegal trade in horn, the International Consortium on Combating Wildlife Crime partner organizations, EUROPOL and other CITES Parties and experts.
Carlos Drews, head of the nonprofit WWF's delegation at the CITES meeting, said, "Governments today made a clear choice at CITES to offer more protection to rhinos by agreeing on timelines that will help two of the worst offenders in the rhino horn trade, Vietnam and Mozambique, clean up their act."
"This is a big step forward for the protection of rhinos, a prehistoric animal that are being butchered for their horns at alarming rates to feed demand primarily in Vietnam," said Drews.
Elephants did not fare so well at the CITES meeting although African elephants face numerous, serious and on-going threats on an unprecedented scale including illegal ivory trade, human-elephant conflict and habitat loss.
Achim Steiner, who heads the United Nations Environment Programme, UNEP, said in his opening address to the CITES delegates, "Environmental crime is hitting the headlines yet again in 2013 including in respect to elephants and rhino in Africa, triggering major concerns within range states and civil society across the globe."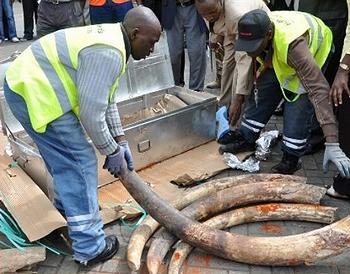 Kenyan officials examine a seized shipment of illegal ivory. (Photo courtesy Kenya Wildlife Service)
"When populations of elephants decline by over six percent annually, that population is vulnerable to collapse. In many parts of Africa right now the killing of elephants for ivory is running at 11 or 12 percent of those populations," said Steiner, citing data from the 2013 UNEP Year Book issued in February.
"Illegal killing of large numbers of elephants is increasingly involving organized criminal groups and sometimes well-armed militias," Steiner said. "For example, up to 450 elephants were killed in Cameroon in early 2012. Poached ivory is believed to be exchanged for money, weapons and ammunition to support conflicts in the region."
Still, governments today decided against immediate trade sanctions against nine African countries that have repeatedly failed to tackle the illegal trade in ivory: Cameroon, Republic of Congo, Democratic Republic of the Congo, Egypt, Ethiopia, Gabon, Mozambique, Nigeria and Uganda.
Instead those countries must identify actions and deadlines to ensure progress in controlling illegal ivory trade before summer 2014, with the potential threat that they could face trade sanctions then if there is no improvement in the situation.
Governments adopted other measures to help curb the illegal ivory trade. They agreed to create an Ivory Enforcement Task Force, which will allow for better law enforcement collaboration between countries. And they will implement better DNA-based forensic techniques to identify the origin of confiscated ivory.
A multi-donor technical trust for the implementation of an African Elephant Action Plan was launched in 2011 at a meeting of the CITES Standing Committee with a goal to raise US$100 million over the next three years to enhance law enforcement capacity and secure the long term survival of African elephant populations. Funds from that trust are now being disbursed and today governments asked that the CITES Secretariat and UNEP promote fundraising for implementation of the African Elephant Action Plan as part of their overall fundraising initiatives.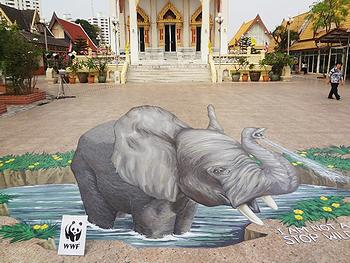 Chalk drawing by Remko van Schaik at Wat That Thong temple in Bangkok created for Buddhist prayers for the poached elephants. (Photo courtesy WWF)
Governments agreed to a U.S. proposal requesting the CITES Secretary-General to cooperate with the UN Office on Drugs and Crime on national security implications of the illegal killing of elephants.
Finally, the CITES member governments acknowledged the need for demand reduction campaigns on ivory.
On Saturday, Thai Buddhist leaders held the first-ever Buddhist merit-making ceremony to pray for the tens of thousands of elephants poached annually. They called on their congregations and other temples to reject the use and trade of ivory.
Thailand is the world's largest unregulated ivory market, and much of the ivory poached from Africa is traded here. A large percentage of Thailand's ivory is bought by foreign tourists, but there is demand from devout Buddhists for ivory carved into images of the Buddha, amulets, and other objects of worship.
Monks, members of the Thai public, government representatives, and delegates from the ongoing CITES meeting attended the ceremony.
"We are honored to come together with the Buddhist leadership of Thailand, on this auspicious occasion of making merit for African elephants – the first ever for elephants," said Dekila Chungyalpa, director of the Sacred Earth program for WWF. "Because faith leaders are speaking up about environmental sustainability being consistent with religious values, we are now seeing a new movement of faith-based conservation all over the world."
The meeting continues through Thursday, when decisions made in committee will be voted on by all 179 CITES Parties. When this triennial meeting started on March 3, there were 177 member governments, but two nations have joined the treaty during this session – Lebanon and The Maldives.
Source: Environment News Service